Grocery store delivery drivers perhaps don't get given the sort of accolades they deserve. Certainly, over each Christmas period, they ensure families have the resources they need to enjoy the kind of festive celebrations that will live long in the memory. Following the COVID-19 pandemic, these delivery drivers are starting to be appreciated slightly more – there's a reason why they are classed as "key workers" – but, often, they still don't have access to the kinds of digital tools that would make their life a lot easier.  
For this article, we interviewed Grocery Delivery Driver Remi and asked him about his experience during last year's Christmas period.
Remi first started work as a grocery store delivery driver in the 1990s, before taking up an office job. Unfortunately, the pandemic meant that he had to find new work, so he returned to his old job as a delivery driver. When he got back behind the wheel, he discovered an industry transformed. 
"When I first worked as a delivery driver two decades ago, I used paper maps to navigate my way around the city, which I'd mark up with Post-It notes so I could remember where I was going," Remi recalls. "That's unthinkable now – mapping technology has completely changed the way couriers work. When I'm doing my Christmas deliveries this year, I'll be relying on a mapping app to make sure customers get their Christmas dinner in time for the big day. I make up to 30 food deliveries every day – that's a lot of turkey and figgy pudding!"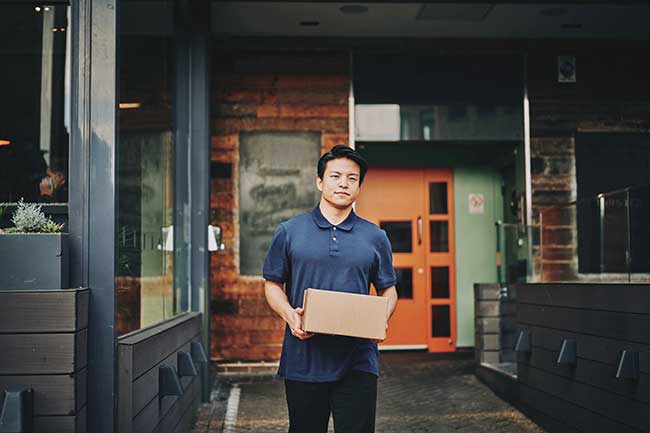 Despite the industry evolution, Remi has found that not all mapping technology works as it should. The solution that Remi's company provides him with is frequently plagued by glitches and fails to take traffic flows into account. This means that it often leaves Remi stuck in traffic jams. 
There are also some hurdles that the app can't help Remi with. When parking on a main street in order to make a delivery to apartments above stores, he knows that it is quite likely that he'll return to a parking fine.  "Luckily, the grocery store will pay for my parking ticket, but the entire experience is still quite unpleasant."
Furthermore, Remi admits that he also gets the odd angry customer being rude to him – until they realise how unreasonable they're being
"I had a customer throw a load of plastic bags at me once because what he'd ordered hadn't turned up with his delivery," Remi said. "I just told him, 'I don't control what's in the shopping.' He then became really apologetic and scooped the bags up off the floor."
Remi reveals that it's usually those with modest incomes who will tip him at Christmas time. "It's usually the little old ladies who are the most generous – while the richest clients don't give you anything! The most heart-warming part of my job is stopping inside to have a chat with the older folk who aren't in good enough health to make it to the shops. It's lovely to think that just speaking to them brightens up their day a bit. It reminds me that at this time of year, my job is really about helping people."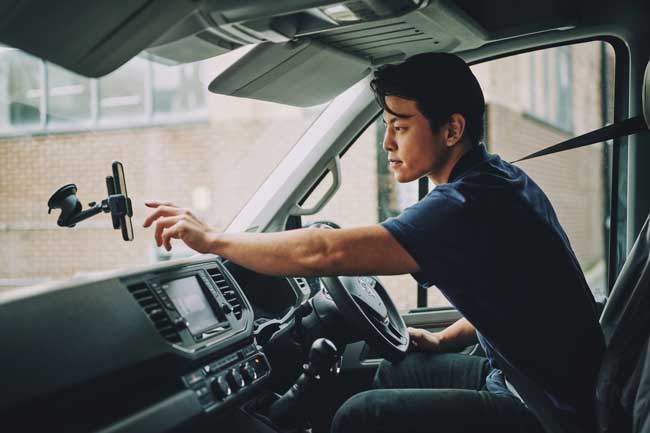 Some of the challenges that Remi continues to encounter with his company's mapping technology could have been avoided if they had adopted HERE Last Mile instead. HERE is regarded as the leading supplier of location technology, using highly-precise traffic information to deliver the best possible service to customers. 
Online grocery sales pushed past $100 billion in the US last year and pandemic-enformed lockdowns and social distancing rules meant that more consumers than ever became comfortable ordering items online. This, of course, means more drivers like Remi on the road, but how do they ensure those items arrive in consumers' hands during the agreed delivery slot?
It doesn't matter if a product travels halfway around the world to reach its final destination or comes from a nearby town, the last mile is the one most likely to cause a headache. HERE understands this and recognises that the last mile is the most important part of the delivery process. Even the most carefully planned route can be disrupted by unusually high traffic flows, unexpected road closures, or local events. Real-time data is needed to ensure that these types of infrequent disruptions are anticipated. 
At Local Eyes, we do more than simply act as a reseller of HERE technologies. We add value by providing our clients with world-class support, ensuring that they get the most out of the HERE Last Mile solution. Our services enable drivers like Remi to travel along optimised delivery routes so he has more time for heart-warming chats with satisfied customers.